Harford A Cappella Festival
Festival Registration
Click below to view and print the Registration Form.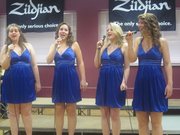 Concert Tickets
Plan to attend the exciting a cappella concert at 8:00 p.m. on March 17, 2012, at Patterson Mill High School. Our guest groups are Larksong, performing a cappella madrigals in Renaissance attire, and Cartoon Johnny, contemporary a cappella group from Washington, DC.
Tickets will be $10.00 in advance, and $15.00 at the door. Check the Registration Form for ordering information, or call Patterson Mill HS at 410-638-4640.
Yes, there are T-shirts!
T-shirts commemorating the Harford A Cappella Festival will be available for pre-order to save shipping charges, or you may place your order at the festival or concert. Pre-ordered shirts will be available for $15.00.
Check the front and back views - and they're green for March 17!